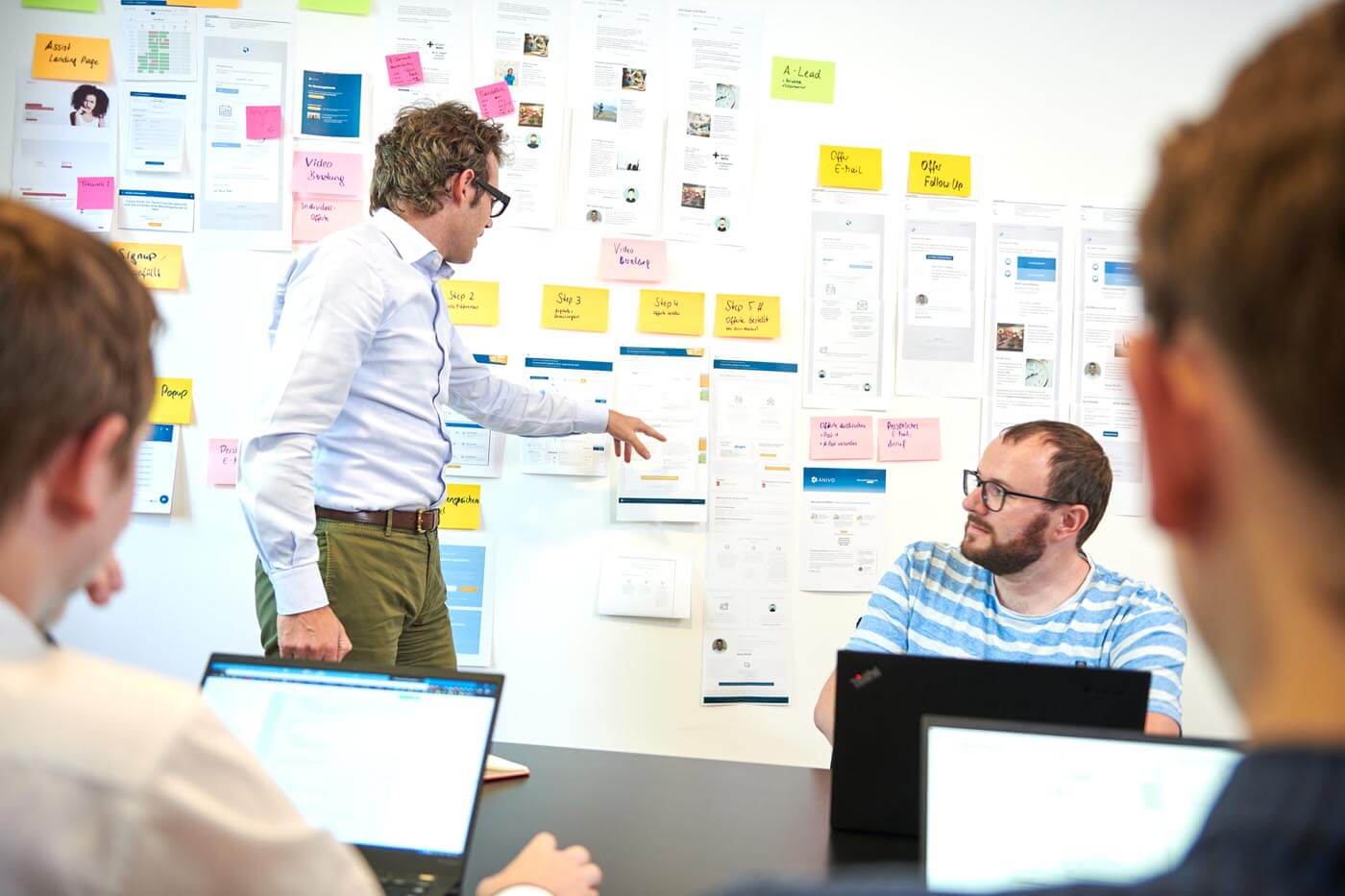 AnivoCore – ideal for insurance distribution in ecosystems
We use agile methods for the conception and development of tailor-made software solutions that meet the high demands of our customers. Ongoing development is based on direct customer feedback from the field, which is collected in close cooperation with the Anivo Operations Factory.
Our software solutions are based on AnivoCore – a seamlessly scalable, digital white label insurance sales platform. AnivoCore's unique multi-tenancy capabilities make it a universal solution for insurance companies, distributors and ecosystem partners (e.g. in the residential, mobility and care sectors).
Each customer and each policy can be clearly assigned to a specific partner and distribution channel. The sales channel has many effects on pricing: the higher the degree of self-service in sales, the lower the acquisition costs and thus the price of an insurance product.
Rapid introduction of new

insurance products

With these features, AnivoCore is ideal for a rapid time to market and for the distribution of new products.

New insurance products, including tariffing and policing, can be mapped easily and completely within a few weeks.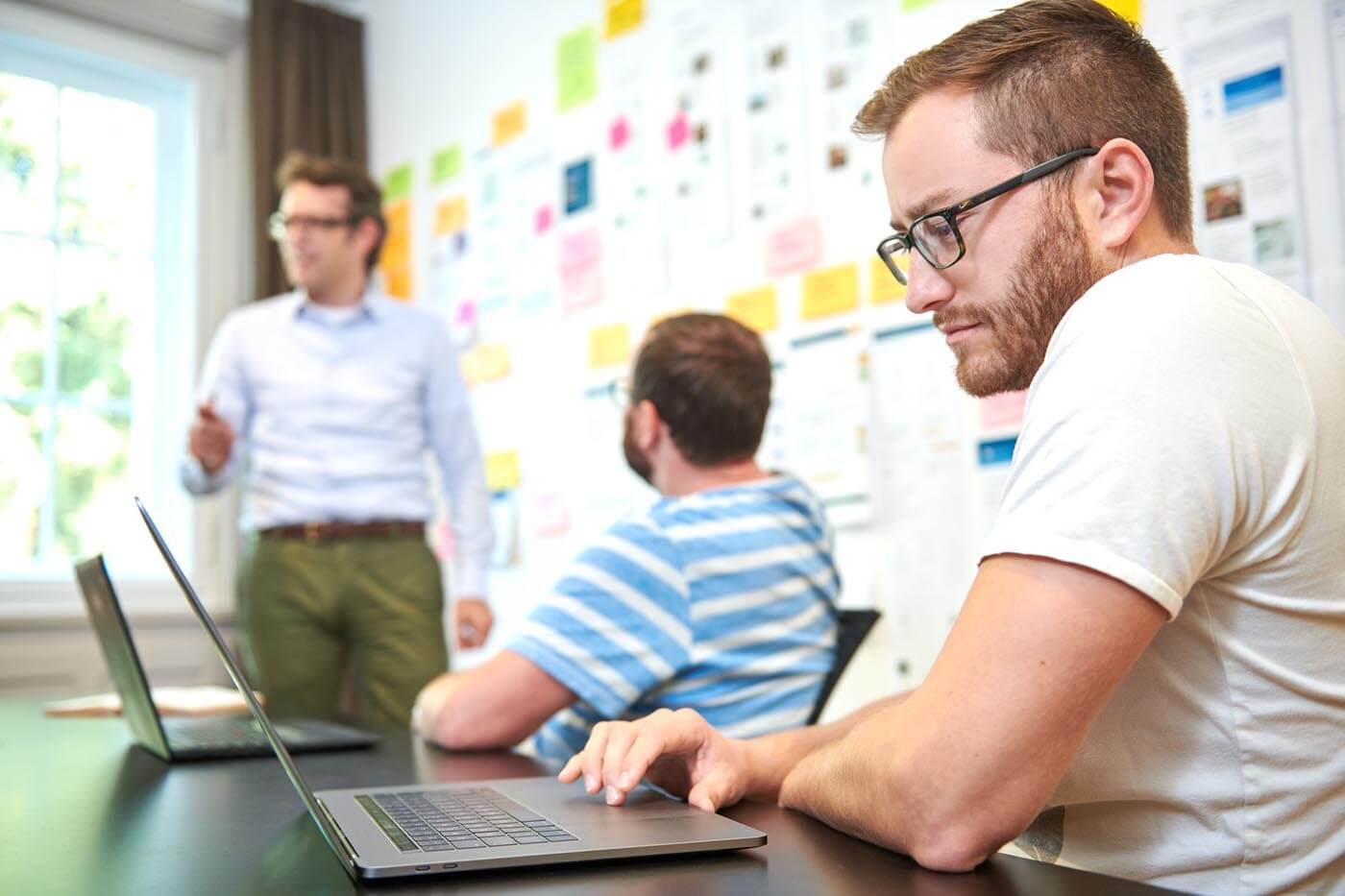 Omnichannel distribution
of products from all lines of business without interfering with existing IT systems
The heart of AnivoCore is its versatile data model. It was developed for the efficient end-to-end distribution of insurances of all product lines (life, non-life, health).
AnivoCore is perfectly suited to distribute insurance products via various distribution channels without having to interfere with existing IT systems (e.g. core insurance systems or banking systems).
Modular Platform:


Tailor-made solutions for different ecosystems
AnivoCore has a modular architecture. The individual modules cover large parts of the insurance value chain – permanently or temporarily as an interim tactical solution. Tailor-made distribution solutions can be configured both for insurers and for ecosystem and distribution partners. Depending on the business model, ecosystem and application, it is decided which tasks are to be performed effectively by Anivo and which remain with the partner. Operation is possible in a multi-tenant setup in the cloud or in a single-tenant setup on site.
Product Model
The AnivoCore product model allows the standardised modelling of various products from all insurance segments:
Tariff Engine
Tariffs can be modelled within AnivoCore or retrieved in real-time from an API.
Underwriting
An underwriting ruleset can be defined and executed for any product.
Quote and Buy
AnivoCore offers digital customer journeys for quotation and checkout processes.
Document Management
AnivoCore generates all necessary documents such as applications, quotes, policies, information sheets, general terms and conditions or commission statements and delivers them by e-mail or makes them available for printing.
Policy-Admin
AnivoCore supports mid-term adjustments, cancellations, technical and non-technical adaptations.
Commissioning
Commissions can be configured and calculated for each sales channel or distribution partner.
Claims *
Features in claims are currently being developed based on AnivoCore's versatile data model.
*currently in development
API / Web Frontend
Functions are accessed via API or a tailored web interface.
Video Calls
Insurance experts advise clients by chat, phone or – currently most successful – over video calls.
Multi-Tenancy & White Labelling
Products are available via different channels, each with individual pricing or coverage configurations.
Capacity Management
Used in the case of personal advice from insurance experts by video or by phone.
This function serves as a digital appointment calendar, capacity manager, and management tool.
End customers themselves or their customer advisors at the distribution partner use it to quickly book an appointment online with a suitable insurance expert. Depending on language and availability, AnivoCore automatically selects a free consultant.
Determined automatically:
Place of the consultation (in the premises of the selling partner or with the final customer)
Consultation medium (by telephone or video)
Language (currently German, French, Italian or English)
Analytics
Continuous improvement cycles are based on the ongoing measurement of user and customer actions. With A/B tests, optimisations are tested and advantages made evident.
Comparison Engine
User-friendly insurance comparison based on comprehensively modelled products and coverages
Marketing Automation
Lead management, upselling and cross-selling activities are supported.
Security
Partners log in via single sign-on mechanisms. Special attention is paid to high data security in the storage of documents.
Integrated, standardised system


for all product lines
The problem: Many insurance companies operate several different IT systems for their individual product lines.
This results in inefficient reporting and document management.
The solution:
The data model of AnivoCore as well as implemented modules and functionalities are standardised and can be extended. This enables the mapping of every interaction along a product or product line – be it an insurance offer, a policy or a policy mutation – within one and the same data structure.
Example: Commission Calculation
Once the "commission calculation" function has been implemented, it can be easily, quickly and – above all – seamlessly transferred to other products, business areas or use cases.
Efficient reporting
across different
business areas
Since all data is stored consistently and generically, the maturity or cross-selling potential of a customer, for example, can be easily analysed and evaluated. Coverage gaps can be made visible in a timely manner without integration or synchronisation efforts. Success rates and effects due to A/B tests can be precisely analysed in real time.
Integration with
insurance systems
Example: Anivo Tariff Engine
With the tariff engine, tariffs based on premium-relevant factors or discounts are easily mapped and calculated within AnivoCore. Depending on the application, the pricing of insurance products is highly dynamic and complex, so it makes sense to do without the tariff engine and retrieve tariff information directly from the risk carrier's core insurance solution via a real-time interface.
This option was applied in the following use case: Distribution of life insurance in Austria.
Example: Anivo document management
AnivoCore can be used as an integrated lead generator in certain applications: The customer journey on the Anivo platform ends with an end customer submitting an insurance application. The application itself and the policy are retrieved by AnivoCore via an interface from the insurance partner's system. We apply this approach when selling health insurance in Switzerland.
There are also scenarios in which AnivoCore generates the insurance offer or application autonomously, without direct integration into the IT infrastructure of the risk carrier during the application process.
Application: Successful field example Bancassurance.
Application: Successful field example Bancassurance
Backbone for
AI & Big Data
Based on the standardised data model, comprehensive knowledge can be gained by means of simple database queries and statistics. Decision criteria and key performance indicators are determined very directly in real time across all divisions and sales channels.
A solid foundation has been laid for future AI applications: As soon as enough data has been collected, predictions with Big Data or AI algorithms will be possible without any problems thanks to the standardised mapping of the data.
Relevant articles
on the topic