Anivo360 insurance products
Foundation for successful bancassurance:
Innovative insurance products
A successful bancassurance initiative requires special, tailor-made insurance products that become a must-have for customers in their individual life situation.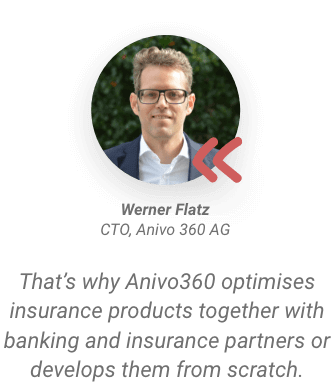 Lean digital application journeys
Application journeys are adapted to the specific consulting situation in the respective omnichannel sales environment, streamlined and get by with very few questions.
Changed customer requirements taken into account
Special consideration is given to the changed requirements and views of younger customers. They demand clear, simple and flexible offers.
Exclusive insurance products with added value for bank clients
Clients greatly appreciate when their bank not only points out possible risks to them in the course of their banking business, but also provides them with the perfect insurance solution directly and easily.

Innovation with Excellence
Anivo360 has the know-how, the network and the experience for successful insurance product innovations.

Added value at the point of need
Bank customers are provided with a suitable insurance offer at exactly the right moment.

Exclusive advantages for bank customers
Anivo360 Bancassurance products are exclusive & offer unique advantages – they are easy to understand, paperless and can be terminated monthly.
Exclusiveness strengthens customer loyalty and therewith the core business
An exclusiveness is like a surprising gift. It gives bank clients the feeling of enjoying benefits reserved for others. This strengthens their loyalty to the bank. Exclusive Anivo360 insurance offers attract new customers through recommendation and have a positive effect on the core business.
Unique customer experience as a competitive advantage
Anivo360 consulting processes create a unique customer experience. This gives banking partners an image gain that clearly improves their positioning vis-à-vis the competition.