Bancassurance solutions for insurance companies
Rapidly open up new sales channels
to customers at the point of need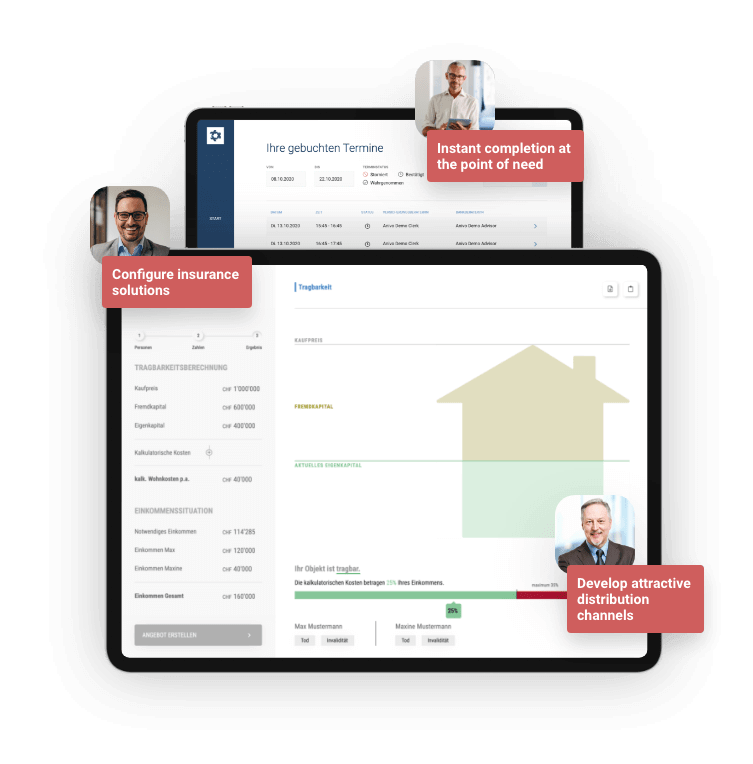 Bancassurance solutions for insurance companies
With state-of-the-art bancassurance solutions for insurance, insurers digitise the entire process of developing, selling and managing insurance products via banks at short notice. Anivo360 solutions can also be used for the digitalisation of own sales channels or in the B2B2C area.
Current challenges for insurance distribution

Digital ecosystems are driving the insurance market and require proactive action.

The aim is to establish multi-channel offerings and to rapidly develop innovative distribution channels.

However – the IT departments of many insurance companies have too little time for sales innovations.
Implementation with minimal impact on internal insurance IT resources
The digital insurance distribution platform AnivoCI offers insurance companies a comprehensive and proven solution for opening up new sales channels. No intervention in existing core insurance systems, interfaces and processes (e.g. finance or claims processing) is necessary. With AnivoCI new insurance products for private and business customers can be introduced in record time, typically 6 times faster than usual.
The Anivo360 technology enables inspiring advisory experiences, which are integrated into the primary transactions.
Insurance solutions are presented transparently, configured directly and can be concluded immediately.
Sales solutions that precisely address the customer's needs can be implemented in just a few weeks.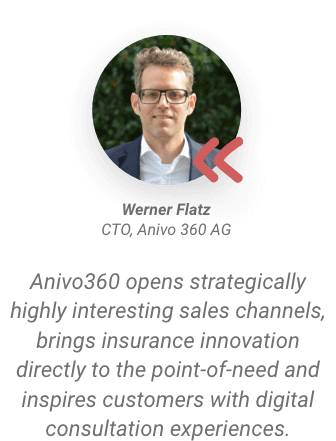 High sales productivity and low customer acquisition costs
Exciting digital consulting experiences, tailor-made insurance products and innovative application journeys enable completion rates of 50 – 60%.
Advice via video telephony reduces the unproductive time of sales to a minimum. The high degree of automation saves back-office costs.