Strong bancassurance growth: Four new Swiss bank partners for Anivo360 and Servicehub AG
More and more Swiss banks are currently joining the bancassurance race to create digital ecosystems and are taking advantage of the attractive offer from Anivo360: an all-in-one solution consisting of end-2-end software technology, insurance consulting-as-a-service and exclusive insurance products. Pilot projects have recently been agreed with no less than four Swiss banks. The timetables are tight. All preparations are on track – the first customer advisory meetings in February have already been scheduled.
Proven all-in-one bancassurance solution
The pilot implementation is plug-and-play and can be implemented within two to three months. After successful pilot phases, the solutions will be smoothly integrated into day-to-day business. Several thousand insurance counselling sessions are planned per year. The consultations will initially take place at the bank branches. The Anivo360 insurance experts will be connected via video. In an expansion stage, it will also be possible to connect bank customers, bank advisors and insurance advisors in three-party video conferences.
Added balance sheet total of all bank partners exceeding CHF 130 billion
The balance sheet totals of the four new banking partners add up to more than CHF 100 billion. One bank is a nationwide bank. Two banks are larger cantonal banks with a combined balance sheet total of more than CHF 40 billion. Added up, the partner banks of Anivo360 therefore now represent a balance sheet total of approximately CHF 130 billion.
Exclusive insurance products from Baloise, AXA Arag and Concordia
The exclusive insurance products of the insurance partners Baloise, AXA Arag and Concordia are offered: building protection, family protection, death protection, legal protection and income protection. The product range is constantly being optimised and expanded.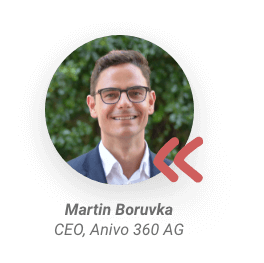 «With our solutions, we enable regional and cantonal banks to quickly respond to the current cooperations of the big Swiss financial players. We are very pleased that our work is showing results so quickly. Due to the software architecture of our AnivoCore technology platform, we can implement the projects rapidly within two to three months. We are already starting with the first customer consultations in February.»